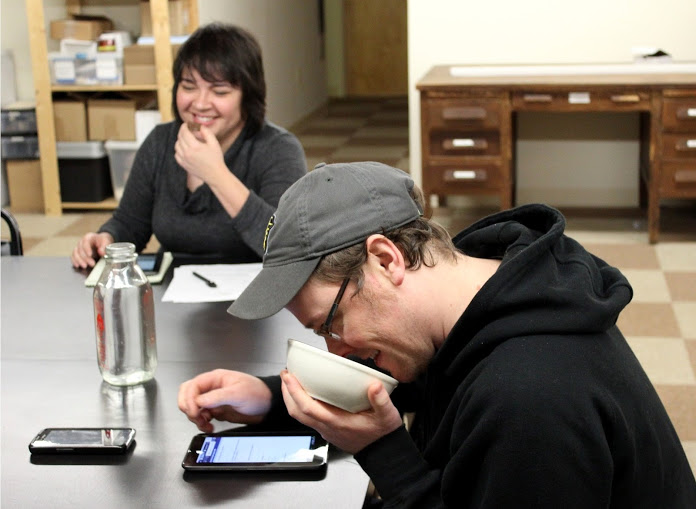 The Chocolate Team has been busy tasting new chocolates to bring you the next delicious flavor! So what goes into this process, besides tasting a lot of chocolate?
We usually start with a long list of different chocolates, with everything from classics or variations of current bars, like a milk chocolate version of our Dark Chocolate Caramel Crunch with Sea Salt, to more wild flavor combinations, like dark chocolate with lime, almonds and sea salt (margarita inspired, perhaps?). Similar to the brainstorming process, where there are no bad ideas, the first draft is a bit of a wish list. We all love to cook and experiment in our own kitchens, and that love of food comes in handy when dreaming up new recipes.
To narrow down the list, we look at each potential new flavor – how does this compare with current chocolate and food trends? Would we want to eat it (very important!)? Does it allow us to expand and work with new farmers (such as new single-origins or new inclusion ingredients)? Once we narrow our list down a bit, we then pull together a group of tasters - representatives from various departments at Equal Exchange - to try the bars. We rank them based on flavor, quality, and market potential. Sometimes a bar is a homerun right away, other times we have to go back for round two or three to tweak the flavor and balance. Ultimately, we're looking for a bar that is high quality, exciting to us, and exciting to our customers.
So, what have we been tasting lately? Here's a sneak peak!
Milk Chocolate with Caramel Crunch and Sea Salt (41% cacao content)
Flavor notes: chocolaty, cooked milk, caramelized sugar, buttery toffee, salt
What did our tasters think? "I would eat a lot of this!" "It's like vanilla ice cream, with pralines."
Dark Chocolate with Caramel Crunch and Hazelnuts (55% cacao content)
Flavor notes: sweet, hazelnuts, slight salt, brownie batter, bitter aftertaste
What did our tasters think? "Love the combination of the crunchy nuts and the caramel pieces." "Maybe too strong on the hazelnut flavor – needs better balance the chocolate, caramel and hazelnut."
Dark Chocolate with Lemon, Ginger and Black Pepper (55% cacao content)
Flavor notes: lemon zest, crystallized ginger, sour, chocolate, black pepper
What did our tasters think? "Good balance between the lemon and ginger." "The black pepper is subtle, and rounds out the flavor."
Dark Chocolate with Raspberries (65% cacao content)
Flavor notes: raspberry jam, chocolate, sour notes
What did our tasters think? "Good sweet and tart flavor combination." "Anything with raspberries and chocolate is a win for me."
Dark Chocolate with Raspberries and Chili (65% cacao content)
Flavor notes: sweet, raspberry, sour, chili, especially in the aftertaste
What did our tasters think? "The chili adds something interesting." "This is a nice combination of sweet, sour, and spicy. The chili really builds from bite to bite."