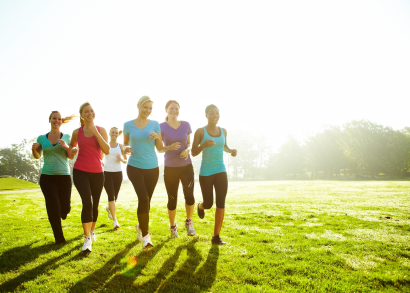 You know spring is here when the colorful crocus start to sprout and there's still sunlight during the evening commute. Even though we experienced a mild winter here in New England, I am still feeling that yearly inner yearning to get outside now that spring is officially here. Experiencing the outdoors after a long winter is not only great for lifting your spirits, but also for keeping active and naturally producing Vitamin D. Below are some tips and facts you may not know about what spring sunshine can do for you.
Vitamin D: Did you know that your body naturally produces Vitamin D when sunlight hits unprotected skin? Vitamin D is very important to bone health, plus it helps strengthen Our immune system and regulate cell growth. In the summer, being outside in a t-shirt and shorts for 15-30 minutes (if you are light skinned, not wearing sunscreen and out during peak sun exposure ~10am-2pm) can produce up to 10,000 IUs of Vitamin D. Our body only needs 600 IUs a day (800 IUs if you are over the age of 71), but your body will store the extra Vitamin D for use at a later time. During the winter months, especially in the northern areas, the sun is not strong enough to encourage Vitamin D production. As always, UV rays can cause a lot of skin damage, so please wear sunscreen, even if it means slower Vitamin D production. Safety first!
Physical activity: If the spring sunshine makes you want to get up and dance, do it! If it makes you want to run, walk or hike, go get 'em! If it makes you want to start planting your garden, then start planting! Physical activity counts as anything that gets your body moving. If the sunshine is not enough to draw you out, then how about the fact that exercise can help you control your weight; reduce your risk of heart disease, type 2 diabetes and some cancers; strengthen bones and muscles; improve mental health and mood; and increase your chances of living longer. Adults age 18-64 need at least 150 minutes of physical activity each week (an average of 20 minutes a day).
Make your garden grow: Sunshine is a great reminder that it is garden season. With the re-emergence of the home gardening movement around the U.S., there are a lot of resources to help first-time gardeners. Check out your local community garden association or agriculture extension office for resources. In addition to being great exercise, gardening can be very therapeutic for the soul, fun for families, produce delicious organic food, and save you money.
One of the proudest moments for any farmer/gardener is getting to enjoy the fruits of your labor. Throw together some greens with any fresh garden veggies and top with this tasty Honey Balsamic Dressing using Equal Exchange Organic Extra Virgin Olive Oil.
After a long day reaping the benefits of sunshine, rehydrate with Equal Exchange Iced Rooibos Tea with Mint and celebrate a successful day. There is nothing like a day filled with giving back to the earth, focusing on your health, and supporting small-scale farmers everywhere.
Learn more: