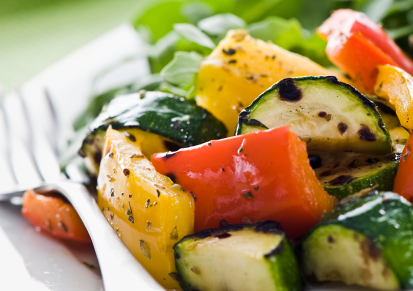 The sun is shining, grills are fired up, and local organic produce is abundant at food co-ops - all good signs that summer is in full swing.
Summer is a great season to support your local small-scale farmers: you can sign up to get a weekly CSA farm share stuffed with delicious produce, or visit farmers' markets brimming with your friendly local farms, or you can grill up vegetables grown in your own garden! What if you could go even further at your next BBQ, supporting farmers in your backyard AND small-scale farmers around the world?
Here are some ideas to make your next backyard BBQ a small-scale farmer fusion success:
Fusion Fruit Salad: Cut up Equal Exchange bananas, local strawberries, blueberries, and/or peaches (or other seasonal fruit), add a pinch of cinnamon, Equal Exchange Baking Cocoa and a little Fair Trade honey. Mix and enjoy. To keep fruit salad cold, put a smaller bowl filled
with fruit inside a larger bowl filled with ice. Sprinkle lemon juice on the fruit to avoid
browning.

Loca-Fair

Grilled Veggies: Cut up local, organic veggies into large, grill-sized pieces.
Brush lightly with Equal Exchange Organic Extra Virgin Olive Oil, salt and pepper. Cook directly on the grill or wrap the veggies in aluminum foil and cook until tender.
Small Farmer Tea Popsicles: Lemon-Peppermint Popsicle or a Vanilla

Rooibos




Creamsicle

? Yes, please! Check out these tasty options to help cool down your guests, made with Equal Exchange tea. Add some local mint to the Lemon-Peppermint Popsicle for a true small farmer fusion.
Health Benefits
Not only are you improving your impact on the world, but you are also choosing healthier
options for your body:
Local food tends to be fresher and more likely to have the beneficial nutrients still intact when consumed.
Choosing organic means you are avoiding exposure to potentially hazardous pesticides and assures that your food is free of

GMOs

! Learn more about

GMOs

here.
A growing number of studies are finding that food produced organically is better than the non-organic counterparts. Foods grown using truly organic methods can have up to 30% more antioxidants, promoting heart and immune health. Read more here.
**All Fair Trade / local / organic farms are not created equal. Make sure you are buying from small-scale farmers that engage in truly organic and/or Fair Trade practices. When buying locally and organic, ask questions, visit farms, and find a farm that you know and trust. **