In 2010, Equal Exchange and TCHO Chocolate embarked on a journey to partner in new and innovative ways with cacao co-operatives in Peru, Ecuador and Dominican Republic. With support from the USAID Co-operative Development Program, we set out to develop a project focused on three key factors for cooperative success: quality, productivity, and capitalization.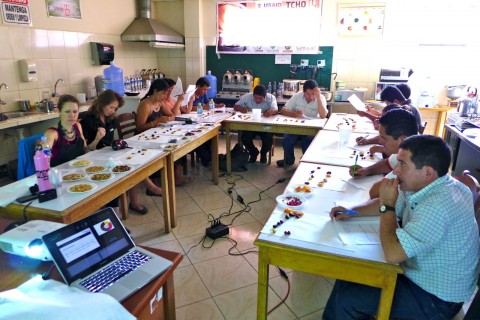 Through the installation of TCHO Flavor Laboratories in these three countries, farmer co-operatives gained access to the tools that would allow them to evaluate samples the way a buyer would, by tasting unsweetened chocolate made from the cacao beans. However, we were surprised to find that there was no shared language that producers and buyers could use to communicate about flavor. Using the specialty coffee industry's tasting systems as a model, we set out to develop our own Cacao Tasting Form. Through at least a dozen workshops, countless hours of virtual communication, and consultation with industry and sensory professionals, we created four different versions of this form over four years. Each year a core group of dedicated members of the Peruvian National Taster's Network worked with us to test, tweak and improve this tool.
We are very pleased to share our final version, available in Spanish and English. We hope that this form empowers producers to join conversations around quality from which they have been historically excluded. We hope that the chocolate industry will continue to work toward widely recognized standards for quality. Finally, we hope that you will use the form to discover the many aromas and flavors of cacao!
We are working on additional materials, such as a Manual for the Tasting Form, a Cacao Quality Training Course, and a Cacao Liquor Sample Preparation Protocol. If you are interested in staying in contact with us, we will be happy to share these resources as they become available. Please also feel free to send comments and suggestions to cacaoquality@gmail.com.
We're also happy to invite you to this upcoming event, which is free and open to the public!
Advances in Cacao Sensory Evaluation Systems
Representatives from Equal Exchange, TCHO, and farmer co-ops in Peru and Dominican Republic will share their experiences with the Cacao Tasting Form and lead you through a tasting of cacao and chocolate samples. If you're interested in attending, please email cliberati@equalexchange.coop.
Tuesday, October 17
3:00-5:00pm ET
Harvard University
Emerson Hall, Room 305
Hosted by Dr. Carla D. Martin & The Department of African and African American Studies