Equal Exchange is proudly supporting the Coffee Quality Institute's Gender Equity program as a Sustaining Partner. Equal Exchange Coffee Quality Manager Beth Ann Caspersen participated in the second of four international workshops in Palacaguina, Nicaragua, last week.
This is the first of two blog posts from Beth Ann about the experience.
----
How do you tackle an enormous topic like gender equity in the male-dominated coffee industry? This is exactly what the Coffee Quality Institute is working toward through a series of workshops that bring together men and women from both the producing and consuming sides of the supply chain. I attended the workshop last week, and over the course of three days, we spent time with women on their coffee farms and later engaged with a mixed group of participants to work through difficult questions using a methodology called the Gender Action Learning System (GALS).
DAY ONE
Our first day was spent walking in the footsteps of Doña Denia Alexa Marin, better known as Doña Alexa. She is a single mom that together with her cousin, Catalina, grows coffee on 4.5 manzanas in Dipilto, Nicaragua, at Ramon Sevilla, a base-level co-op of PRODECOOP, a partner of Equal Exchange for more than 20 years. Much like many of the women I met on this trip, she has a powerful demeanor - an air of confidence with a great attitude.
Nicaragua is a very special place for Equal Exchange. It was here, in 1986, that we started buying coffee despite the Nicaraguan trade embargo set forth by the Reagan Administration. And it has been here that we have continued to buy coffee for more than 28 years. So much has changed during this time in Nicaragua; a wide network of small farmer co-ops has developed, the women's movement has grown and expanded. Yet, there are so many challenges women still face: land ownership, inequality in the household, climate change, and coffee leaf rust, or la roya in Spanish, the deadly fungus that has spread throughout Central and South America destroying many farms and the livelihoods of coffee farmers.
Doña Alexa graciously hosted three of us in her house for the day and provided us with a glimpse into her life. We enjoyed coffee together as we watched the rain come down, the sun come out and the rain begin again. Our conversation lasted almost two hours; we shared our lives with her and her with us. We learned about how she is the president of her co-op, and is one of two women on the board of directors. She is also a member of the Gender Commission for PRODECOOP. Her commitment to the women's movement and the co-op were obvious, despite so many challenges.
We have to be prepared for the things that change that we can't predict." - Doña Alexa
La roya has had a devastating effect on Doña Alexa's harvest. She was forced to cut down more than half of the coffee trees on her farm to combat this deadly disease and to try to salvage the remainder of her coffee. Her production has plummeted. On a farm that used to produce approximately 8,000 pounds of coffee per year, she was only able to produce 500 pounds in the 2013-2014 harvest! To make matters worse, the current harvest is a month behind and the stress of what will happen next is overwhelming.
"I got a phone call from the General Manager of PRODECOOP, Merling Presa, and she asked me, 'What are you going to do?' and I told her, 'I don't know, I am getting ready to pack my bags and go to Spain or the United States," Doña Alexa told us.
Emigration is a reality in these desperate times. Without income from coffee, and the high cost of food staples like rice and beans, she wasn't sure she could weather the crisis. Luckily, Doña Alexa was able to get a small loan from PRODECOOP to make it through the year, but she says that it is not enough. It was a difficult story to hear, and unfortunately, it is one that has become common in many parts of Nicaragua.
After the rain subsided, we headed out onto the farm with her cousin, Catalina, and proceeded to a small plot with young coffee trees where we received a lesson in fertilization. Unfortunately, the roya crisis devastated the community and the primary co-op decided to return to conventional farming.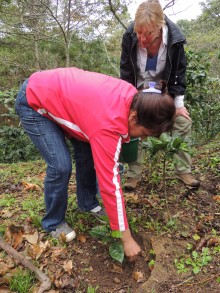 It was my first time fertilizing coffee trees. Using a curved stick that looked like a short cane as a hoe, I worked to remove leaves and cut a small circle into the soil around the young coffee plant, and then distributed a tiny handful of fertilizer pellets around the plant. Using my hands I covered up the fertilizer with loose dirt. (Pictured right: Doña Alexa and Kimberly Easson fertilize coffee plants.)
We received careful instructions on the application process: if too much fertilizer is applied, it will burn the roots of the plant; if it is applied too close or too far away from the root system, the plant cannot access it properly. At first I was a bit timid, the last thing I wanted to do was to destroy one of the new plants! But I quickly got the hang of it and proceeded from plant to plant in the hope that my tiny contribution might be helpful, or at the very least, provide some comic relief.
The rain began to pick up again, so we returned to the house for lunch. Sitting in the covered outdoor kitchen, we watched rice and beans cook on the two burner adobe stove and participated in the tortilla making process. I made two tortillas; they were small, sort of fat, and relatively even - not too bad. Our lunch consisted of rice, beans, fresh cheese, boiled bananas and my tortilla, accompanied by a hot cup of coffee. It was delicious!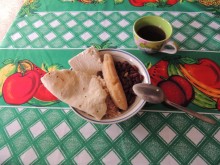 As our lunch concluded, we decided to walk up the hill to meet some of our colleagues at the neighbors' house. Upon entering the next home, I was filled with a sense of both happiness and sadness. The farms looked so green and beautiful with the farms full of life, yet the pressures of the roya crisis were looming, bringing back memories of the low market prices of 1999. What options and choices do these farmers have?
It was here at the neighbors' house that we were asked to talk about our experiences at home in the U.S. What is the division of labor like? How many children do we have? Who cooks and cleans? And it was here that the reality of our different lives once again began to set in.
I have a husband that is very supportive. We work together, share together, and make decisions together. This is not the case in many parts of the world. I have witnessed this time and time again. "I start my day at 4 [a.m.] and when I finish, I fall down exhausted," Doña Alexa told us.
I sat there wondering what I could do, and how I could help improve gender balance in households like the one I sat in. Yes, it will take time, but I was anxious to get started through rest of the workshop over the next two days.
Read part two here.