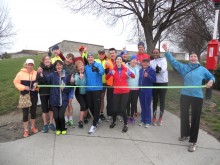 March is Women's History Month–the perfect time to highlight a new initiative that I helped create: Java Jog for a Cause. The co-founders and I started out as a small group of women in coffee that serendipitously came together through our mutual interests: coffee, and in particular, women in coffee. We wanted to find a meaningful way to highlight the important role that women play in coffee and pair that with health and fitness.
Inspired by the Run for Congo (sponsored by Women for Women International), we dug into our own experiences and those we have had with women in coffee to hatch a plan. Perhaps coffee professionals attending the annual SCAA conference would also participate in a cause-related run to raise funds for women in coffee!
There was interest, but we lacked the resources to put on an official run so we created a Founders Run as a way to kickstart the program. We held our inaugural run, named Java Jog for a Cause, in April 2013 during the annual SCAA conference (that year held in Boston), and with 15 runners we managed to raise more than $7,000! This year we will direct our fundraising efforts to women in the Democratic Republic of the Congo (DRC), which as many of you know, holds a very special place in my heart.
In the DRC there are numerous organizations working on amazing projects that are changing lives. There are concerted and coordinated efforts that have, and will continue to, make change. Our very own Congo Coffee Project has helped to bring the story of women and coffee to life. I am so excited and proud to see that the specialty coffee industry is abuzz with excitement about the run and that the momentum is building.
By focusing on women through Java Jog for a Cause, our hope is that more people will understand and talk about violence against women and support women's rights, not just in the DRC, but all over the world. Java Jog for a Cause is not just a run; we are striving to build up women in the coffee movement.
And excitingly, Equal Exchange has a team! There are five people on our team so far: Phyllis, Carly, Todd and myself from the East Coast office, Jessie from the West Coast office, and Alison from the Equal Exchange Espresso Bar in Seattle. We welcome more runners, so if you know someone in or near Seattle, join our team! If you are not a runner, you can support us in other ways (see below). Equal Exchange will be a Bronze sponsor of the race this year and we hope that you will contribute to our campaign to raise more than $1,000.
Support our Run and the Women of the DRC:
Donate to Team Equal Exchange
Join our team and run the race in Seattle
Share this story, tell your friends and cheer us on
Run Information:
Date: Friday, April 25, 2014
Time: 7:00 a.m. 10K Run, 7:30 a.m. 5K Run and Walk
Location: South Lake Union Park, Seattle, Washington
I would like to give special thanks to my sisters Kimberly Easson and Aimee Russillo, the key drivers of Java Jog for a Cause. Thanks for all you are doing to make this happen!