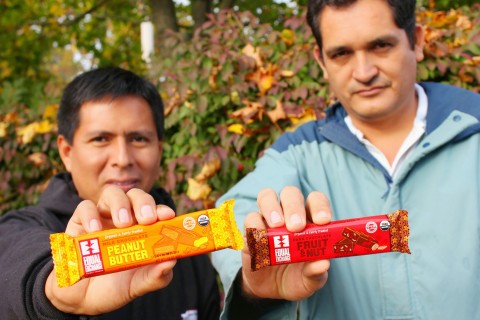 Last week, we hosted two managers from cacao co-ops we work with in Peru to source chocolate for our new Organic Chocolate Chips. Hildebrando Cárdenas Salazar from Oro Verde co-op and David Contreras from ACOPAGRO co-op visited our headquarters in Massachusetts to learn more about Equal Exchange, meet some of our store accounts, and work on 2014 planning for our USAID grant project with the two co-ops.
"It's impressive to see what the co-ops are doing around quality and productivity, and to be able to work alongside them," said Equal Exchange chocolate products manager Dary Goodrich, who has been actively involved in the USAID grant project. Let's take a closer look at each of these innovative cacao co-ops.
ORO VERDE
"Like Equal Exchange, we want to improve the lives of our small farmer members," said Hildebrando, who is general manager of Oro Verde. The co-op was founded in 1999 with 56 members, and now there are 1,200 members. "Farmers realize the benefits of being part of the co-op," Hildebrando said. "There are advantages that intermediaries can't provide, especially around technical assistance."
Additionally, the farmers that belong to the co-op have seen higher prices as a result of working together.
"Co-ops have more power to negotiate prices with buyers, which has resulted in higher prices for producers." There are also programs that benefit the whole community, such as scholarships for children of producers and women's groups.
Oro Verde is currently working hard to identify high quality, productive and disease-resistant cacao trees to build up an elite tree program allowing them to provide their farmers with improved varieties for the future. This includes a reforestation project that involves planting two million trees to help the co-op achieve a carbon footprint of zero.
ACOPAGRO
ACOPAGRO co-op has been a leader in Peru around cacao quality and the co-op is now looking at how fermentation and bean variety impact the flavor of the bean. "The producers are integrating new agricultural techniques to be more competitive in the market," said David, who is the quality control manager of ACOPAGRO.
The co-op started with 27 members in 1997 and now has 2,100. They, too, are working to neutralize their carbon footprint through a reforestation project, focusing on an area of the forest that was previously wiped out by loggers.
Fair Trade premiums are often used to support children of producers. They are working to ensure all children receive an education so that they can bring technical skills back to the co-op. (High illiteracy is a challenge among current members; in the past, education was often seen as an embarrassment.)
USAID Grant Project
Through our USAID grant project, entitled, 'Co-operative Quality and Productivity Program with Small-Scale Cocoa and Coffee Farmers,' we have accomplished some exciting work with five co-ops located in the Dominican Republic, Ecuador, and Peru, including Oro Verde and ACOPAGRO co-ops. "Our work is focused on building tools and models that create increased quality, increased yields and increased member equity, which lead to stronger co-ops that are better able to meet the changing demands of the market and the changing needs of their farmer-members," Dary said.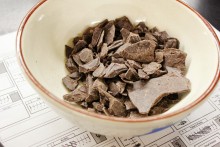 The project has helped bring focus to human development as the key to co-op success - improving quality of life for farmers and creating strong, knowledgeable members of the co-op. "In the past, projects focused on productivity," David said. "We gave away things like tools and compost, and in the end, productivity actually went down. Now we're focusing on the person as the agent of change."
"You can give a producer 10 kilos of compost, but you need to teach him why it's important, to take it to the next level," Hildebrando said.
Both co-ops are also putting quality at the forefront, training at all levels of the organization, from farmers to technicians in the quality lab. "What we're doing is spectacular," Hildebrando said. "We're trying to improve the quality of the product, while also improving the quality of life for producers, making lives better."
The Co-op Difference
For David and Hildebrando, the co-op world is home. "I love cooperative work," Hildebrando said. "When I leave the co-op world I get stressed." But not every farmer is inherently pro-cooperative, which means co-op leaders like David and Hildebrando must put energy into elevating co-op culture in the communities.
"It's like a sports team - you have to rally the co-op spirit," David said. Working together, they have big goals in mind, but they're goals that the co-ops are continually making progress toward as they become bigger players in Peru's cacao market. The two managers view each other more as allies than competitors, and share their experiences often. "We have to band together as co-ops to take on the big [chocolate] industry," Hildebrando said.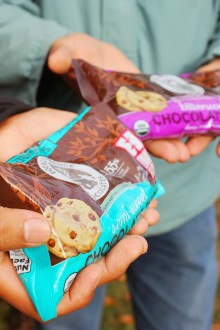 Their final message to chocolate consumers? "Behind every bag, there's a concrete story," David said. "There's a real person. With [mainstream chocolate brands] it's not important what or who is behind the bag."
Hildebrando agreed, "There are the feelings, emotions, and hard work of each farmer in every chocolate chip." By purchasing these products grown by small-scale producers, he said consumers are doing more than just eating high-quality chocolate; they're helping improve lives.