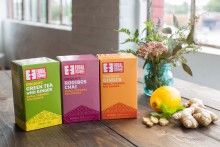 We are proud to introduce three new small farmer teas this fall. Each tea is carefully crafted from a beautiful array of small farmer tea and spices to warm your mind, body, and soul.
First up, we are unleashing the pure power of ginger with our new Organic Ginger Tea. Why add other ingredients when you've got ginger that tastes this good? This tea is sweet and rich in flavor with a warming, peppery ginger finish. Plus, it's naturally caffeine free so you can keep on drinking it all day long. The ginger is grown by the small-scale farmers of the Marginalized Organic Producers' Association (MOPA), in the central and southeastern "Uva" regions of Sri Lanka. MOPA, a relatively young organization, was developed by its farmer members and Bio Foods, a longtime partner of Equal Exchange.
MOPA has grown to include more than 800 farmers in the past five years, almost half of whom are women. Bio Foods has provided vital organizational support to these farmers during the "in-conversion" stage from conventional to organic and biodynamic farming practices and through the development of their cooperative network. As a result, we now see an inspiring landscape of small organic farmers that are diversified in a variety of tea and spice crops, and with healthy farms and vibrant communities.
Our second offering to keep you warm in the cold months ahead is our Organic Green Tea with Ginger. This tea brings together the best of both worlds by combining the floral, toasted rice, and oceanic flavor notes of green tea with ginger from MOPA farmers in Sri Lanka. The delicate green tea in this blend comes from the Potong Tea Garden, located in northern India in the foothills of the Himalaya. Once a colonial plantation, the Potong Tea Garden is now collectively run by its workers and is paving a stronger, more democratic path forward for the community. If this revolutionary new model is successful, not only will it generate significant improvements for the garden's 350 workers and their families, but the seeds planted in Darjeeling, India, could help spark a much-needed transformation of the tea industry. We believe partnerships such as these hold the key to the future of a fair and equitable tea system.
Last but not least, we are proud to share our new Organic Rooibos Chai. This blend combines the rich, earthy, and vanilla flavor notes of rooibos with an invigorating and complex blend of spices from the Small Organic Farmers' Association (SOFA) in Sri Lanka. Add some milk and sugar for an extra decadent treat at any time of day with this naturally caffeine-free offering. Our rooibos is grown by farmers at the Wupperthal Original Rooibos Co-operative (WORC), a democratically organized group of small-scale farmers who have grown rooibos in South Africa for generations. Small-scale farmers are very rare in the plantation-dominated rooibos industry and make up less than five percent of all rooibos grown. These farmers were pushed off of their land in the 1800s and later endured apartheid. Today, they grow some of the best rooibos in the world.
So please, drink up. Enjoy. And know that with every sip you are helping us change the tea industry, an industry that has been built on the exploitation of farmers for far too long. As Gandhi said, "In a gentle way, you can shake the world."
Look for the three new teas at your local natural foods store or food co-op soon! If you don't see them, ask for them!