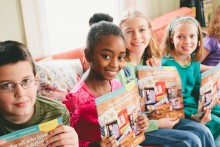 We've got some exciting updates to our Fair Trade and organic fundraising program for schools, groups and organizations! It's now easier to earn profits for your important community projects. Here's what's new starting Fall 2014:
1. ORDER IN FEWER STEPS
Enter your master order once! E-mail your spreadsheet to us and we'll handle the rest.
2. EARN MORE
Chocolate bars, cocoas, and teas are now offered in multiples and gift packs so your group can raise more money.
3. ENJOY MORE CHOICE
Run an Online Fundraiser! Choose from hundreds of products and enjoy home delivery. Submit your W-9 for or tax-exempt certificate to set up your online store.
4. UNPACK FASTER
We've designed a catalog with only the most popular and delicious products. A streamlined selection means less time packing student orders.
5. PROFITS SIMPLIFIED
No more rounding up to a case quantity for the best price. Each item offers a steady profit margin, ranging from 38-48%, regardless of how many items you order.
Sign up for more information here.