If you love giving Equal Exchange's gourmet, food products as gifts, have you considered spreading the love by offering them to your community at your local holiday fair? Setting up shop at a holiday fair with Equal Exchange products is a fun way to get to know your community, promote ethical consumption, support small farmers and artisans, and earn money for your favorite organization. Keep any leftover items for your personal use or give them as gifts! Equal Exchange offers attractive pre-packaged gift baskets that you can even bring to the sale, ranging from $18-45 wholesale ($30-$75 suggested retail price). Does it get any easier?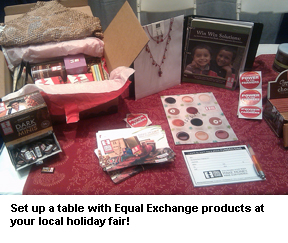 How to Run an Easy Event Sale with Equal Exchange:
Order products at wholesale prices. Shipping is FREE on four or more cases of any Equal Exchange product.
Bring a colorful tablecloth, sampling trays and tongs, and set up a beautiful display.
Set prices at the suggested retail prices and earn 40% profit for your favorite organization.
Talking Points for Your Sale:
Most coffee, tea, and chocolate production relies on exploitative labor practices (including child labor). Equal Exchange buys from small farmer co-operatives that own their means of production, and are guaranteed a minimum purchase price. This supports small farmers in the developing world and in the United States by providing them with a steady income, and often contributing to the improvement of community social services.
Most coffee, tea, and chocolate is produced in environmentally destructive ways. Equal Exchange buys organic products. Organic production is sustainable for the earth, keeps toxic chemicals away from the workers that produce these products, and out of the food that we consume.
Equal Exchange is a worker-owned co-operative based in West Bridgewater, Mass., with democratic decision-making practices, and an equitable salary distribution. All workers in the company have a say in how the company is run, and get a fair wage.
Equal Exchange has partnered with Ten Thousand Villages to give you even more gift options! Choose from beautiful Fair Trade products like journals, shea butter in a ceramic pot, a hand-painted mug from Vietnam (makes a great companion to a bag of coffee or a tea collection!), or a gorgeous tablecloth. You can even purchase beautiful, tree-free fairly traded wrapping paper!

Use the products as stocking stuffers! Chocolate bars make especially great stocking stuffers. So do the fairly traded, handmade hackey sacks, coin purses, or earrings. These items are small, and reasonably priced, but still high quality.
Want to Learn More?
Call us for FREE samples, promotional materials, ideas, and for a wholesale price list!
Equal Exchange Fundraising:
774.776.7371
fundraising@equalexchange.coop