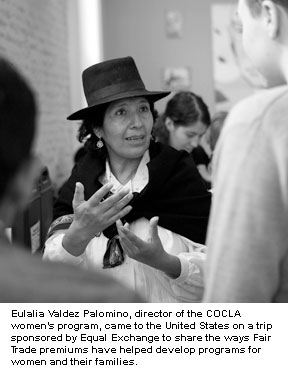 Eulalia Palomino made a choice early in her life not to follow in her mother's footsteps.
"I had a father who drank a lot and mistreated my mother. I said I wasn't going to be like her," Palomino said. "So, I decided to work for women in rural areas - women who are very put down."
After becoming the first in her family to attend university, graduating at the top of her class, and winning a competitive national scholarship that allowed her to attend graduate school in women's studies, Palomino is now head of the Women, Gender and Family program for COCLA co-op - an Equal Exchange partner organization that oversees 25 smaller co-operatives in Peru. Fair Trade premiums help sustain the women's program, which consists of numerous trainings and activities for women and, in turn, their families and communities.
Despite the fact that women spend long hours contributing to the functioning of the household, Palomino said women are often abused - both physically and psychologically. Because of her own mother's experiences, her work with women comes straight from the heart. "I do my work with a lot of love," she said.
The COCLA women's program encourages women to think about and discuss their roles in the household. "We look at the sexual division of labor," Palomino said. "What do the women do and what do the men do?"
Palomino said women typically start their days at 3 a.m. to cook breakfast, get kids dressed and ready for school, feed the domestic animals, wash the family's clothes, cook lunch, and carry it to the husbands and other workers - which could be a two-hour walk away. If it's the harvest season, they'll stay and help harvest the coffee. Then they leave the field, carrying a basket of coffee. After the walk back to the house, the women cook dinner, feed the animals, and make sure all aspects of the household are in order. Generally it's the woman's job to help children with homework, although men do this sometimes, too. The women are the last to go to bed.
"It's unending," Palomino said. "Despite the fact that women do so many things - it's the woman who carries most the weight in making the household function - but it's always the man who is viewed higher." She said women have traditionally been marginalized because they haven't had the same opportunity for education as their male counterparts. For that reason, the women's program emphasizes educational trainings for women.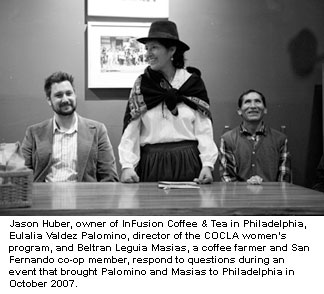 "The trainings are the most important thing," Palomino said. "I always say knowledge is power. There are a lot of women who don't know how to read or write. A lot of times they're discriminated against because of that. So we at least teach them how to sign their names. This is something that helps them feel good about themselves and people around them develop more respect for them."
The women's program also emphasizes the preservation of culture. "A lot of the men - because they go to the city to work - tend to imitate the city customs," Palomino said. "So we work in an area called "˜Culture and Identity,' where we work to maintain customs like speaking our language, eating our foods, doing our dances, and curing disease with natural plants."
The women involved in the program also take trips to see other ways of growing crops and to visit archeological sites. "We talk about the history of the Inca to give them pride in our culture," she said. "For years and years, the Spanish tried to take away our culture and make us feel like we were less. After all those years of having that internalized, we're now trying to take back our culture. We shouldn't be ashamed because we're farming people. We should feel extremely proud of the whole history we have. We have the same capacity for intelligence - the only difference is that we don't have access to the same levels of education."
In addition to preserving traditional culture, community health care is also a priority for the women's program. Health care is often unavailable - especially in remote areas - so the program aims to train women to become health promoters. "In these communities, lives have been lost because of simple things, like a bite or accident," Palomino said. "When there is someone able to give first aid, a life could be saved."
The program also includes steps to improve the physical living conditions for women in the home. For example, wood is burned over a clay stove in a small space, causing many women to die of lung disease. The women's program started a pilot project to put new stoves in homes, but the project is expensive so one stove is currently being given to a group of women to share.
Women are responsible for the household finances, so COCLA also offers them low-interest loans through a credit program. Coffee is the main source of income for the families, but beans are only purchased once a year, so women must often find other sources for income - and the loans can help them do that. "The women can use the loan to do whatever they want - they can sell fruit, they can choose to open a store, buy additional animals, or cultivate flowers," Palomino said. "This allows women to bring some money home so there's more appreciation for them." Right now the women are selling their products domestically, but they hope to someday expand to an international market.
For Palomino, spreading the Fair Trade message ensures that trainings and programs supporting women can continue - programs which ultimately benefit the whole community. As Palomino said, "When you change a woman's life, you change a family's life."
Note: Palomino spoke through a translator.