Words by Alejandrina Salas Altamirano, San Fernando Co-op member, Erapata, Peru
As told to Ashley Symons, Content and Social Media Coordinator, translated by Jessie Myszka, Directora of Distribution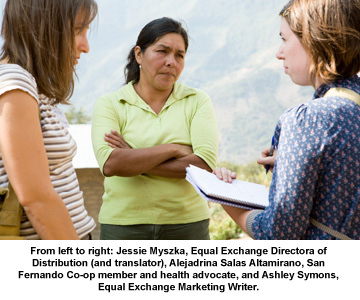 San Fernando Co-op is very young but has a lot of members - around 400. I was one of the first members in 2001. I've always been loyal to my co-op. It has grown little by little. What I like most is the organization. Before we were selling organic, but now the price is raised because it is Fair Trade. [People in the U.S.] should appreciate our coffee and that's important for us because we feel proud. The valley always suffered as far as coffee goes, being sold at a very low price. It used to be sold 80 soles per 100 lbs, but you can't eat with that.
With the support of co-ops, [the women] are organized into 11 committees of development, such as a committee for gender and development, and one for gender and family. We want to say thank you to the people who gave us help for the health committee through Equal Exchange. We're organized and improved a lot. The women are doing very well. The women are very happy with the support.
The intention of the committees is that the women are prepared intellectually, and to encourage them to find markets to sell their artisan crafts. At the beginning it was hard, but little by little it is growing and we are understanding the organization. Only by organizing ourselves, can we grow. It comes from ourselves. We're co-op members, not wives.
I want to ask for your support on behalf of the other members, because sometimes it's the women who are the most ignored in the production of coffee - but we're there doing quality control to make sure there's quality coffee. We participate in the harvest through ayni (an Incan concept of rotating work on each others' farms). We get up really early, at 4 a.m. in the morning, and we're done working at four in the afternoon. We help with all the harvesting work. For the most part, men don't put a hand in the kitchen, so the woman does everything. We [women] members don't have help in the kitchen during harvesting. We're doing double work - feeding the workers and working alongside them ...
I am a trained coffee grower. I like to work with coffee. I put my hands in the dirt to grow the plant. I know how long it takes to grow - 3 years. And it's really beautiful. I like to work with the coffee for the love of my coffee that gets a good price. That's why I became a member, because only by organizing can we make progress.