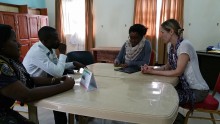 Over the last four years, Equal Exchange has raised more than $50,000 for the
Panzi Foundation
through the
Congo Coffee Project
. The money has supported survivors of sexual violence at Maison Dorcas, the Panzi Hospital's aftercare program in Bukavu, Democratic Republic of the Congo (DRC).
"The ​numbers belie the real impact that $50,000 has at Maison Dorcas," said Naama Haviv, Executive Director of the Panzi Foundation USA. "With $50,000, the Congo Coffee Project has supported at least 272 women with a full slate of vocational skills training." The women learn skills like sewing, weaving and crocheting.
The Congo Coffee Project is a partnership of like-minded and social justice organizations working to build the coffee economy and to spread the message to end sexual violence in the DRC.
And now our work with both the Panzi Foundation and the coffee farmers of SOPACDI co-op in Minova, DRC, is intersecting in an exciting way. During my November 2014 visit to SOPACDI, I learned that the Panzi Hospital is in the process of setting up a small hospital near the co-op. Plans are in the works to build the hospital in Bulenga, close to the co-op's coffee processing station in an area where coffee is cultivated, and the materials are on site ready for construction to begin. This hospital is part of a project of Panzi Hospital to build small clinics called One Stop Centers to assist survivors of sexual violence in rural areas, and is funded by the World Bank.
At SOPACDI, there have been numerous women affected by sexual violence and the co-op wholeheartedly supports the One Stop Centers. Just two weeks ago, I was able to connect Mama Zawadi, the director of Maison Dorcas, and Dominique Plaza, the manager for the One Stop Center project for Panzi, with the farmers of SOPACDI through Dunia Moises Muhindo, a coffee farmer, the quality manager for SOPACDI, and eldest of 10 children.
Together we introduced our respective organizations and spent time getting to know each other. It was an amazing moment to bring together these people and their inspiring organizations, all working to make life better in the DRC, all sitting at one table looking at each other and talking. I look forward to seeing how our circle will continue to grow, expand and support one another in the years to come.