Carly Kadlec is the Green Coffee Buyer at Equal Exchange, and one of the women that inspires me in our work toward trade justice. I've been fortunate to travel with Carly on visits to coffee farms in Honduras and Guatemala. (See this photo essay we did about our trip to Guatemala.) Since March 8 is International Women's Day, I wanted to sit down with Carly and talk about her work with coffee producers ... but, she's on the road, as she often is, so we bring you this Q&A, across 2,500 miles:
Ashley: Hi! I'm in Boston, where it's currently freezing. Where are you right now?
Carly: Right now, I am in Colombia. I just spent a week in Riosucio, Caldas, with our partners ASPROCAFE Ingruma and now I'm in Popayan, Cauca, visiting a new partner, Nuevo Futuro Association.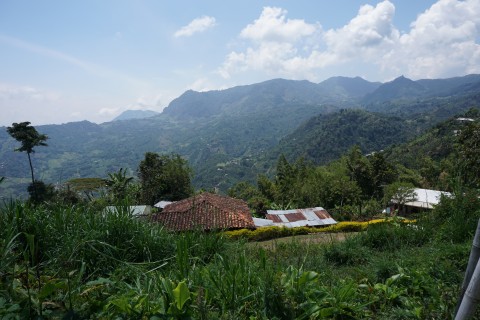 Pueblo Viejo, Riosucio, Caldas, Colombia
ASHLEY: What was the focus of your visit with ASPROCAFE Ingruma?
CARLY: The focus of the trip was supporting the team at ASPROCAFE Ingruma in their farmer field days. The staff at Ingruma started doing these farmer field days to host a variety of workshops all in one day in the communities where the farms are located. It is kind of the concept of the mobile classroom.
They've invited Equal Exchange to participate in the field days the past three years. This year, I did a focus group-style conversation to engage with farmers around what their vision and dreams are for their organization, and how Equal Exchange can support that vision. There were the more run-of-the-mill commercial and logistical conversations happening on this trip as well.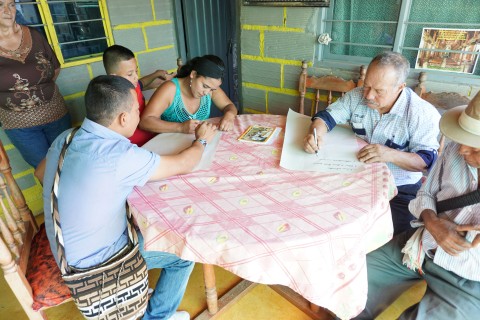 ASPROCAFE Ingruma members participate in the farmer field day workshops in the community of Travesias.
ASHLEY: One focus of these field days has been farm productivity. Why is productivity so important for farmers, especially now, with the threat of climate change?
CARLY: The overwhelming majority of farmers in our supply chain have small production areas. The average farm size for all of our partners is less than five hectares per farmer (in most cases, it is well under that). For a shot at profitability and prosperity, farmers have to be able to maximize their productivity, soil health, and resilience.
In regards to climate change, well, every farmer that I speak with recognizes the changing climate and the uncertainty of the climate in their region. Resilience is key; diversification, preventing erosion, and having access to capital in case of drought or floods all are strategies to increase farm resilience. The uncertainty farmers face necessitates more preparedness and that requires financing. Increasing farm productivity and thus, farmer prosperity, is crucial.
ASHLEY: As a coffee buyer, you get to travel to visit our farmer partners not just in Colombia, but all over the world. What is it like working with other women in the coffee business, internationally?
CARLY: I've worked in coffee for a while now and my focus has always been on working with farmers and their organizations to increase productivity, quality, farmer prosperity, and market access. Personally, I think about gender and equity all the time. And yet, from the beginning of my work in coffee, I've had some hesitation or reservation about engaging coffee farmers directly on the topic of gender. I think about whether I'm being imperialist or judgmental in my approach a lot. In the past, it has been much easier for me to discuss the advances that a farmer makes in terms of productivity (how many bags do you you produce/hectare?) than it has been to talk about gender equity.
One of things that working with women in our supply chain has helped me to do is feel more comfortable talking about gender within the world of coffee. As I get to know people more and more in our supply chain and we develop relationships, discussing gender equity, feminism, access to land, access to credit, and the dual expectation of motherhood and professional success becomes a mutual conversation of learning and support. I'm especially thankful for the women producers that I have gotten to know who have helped me understand the interconnected nature of gender equity, nonviolence, and meeting people where they are.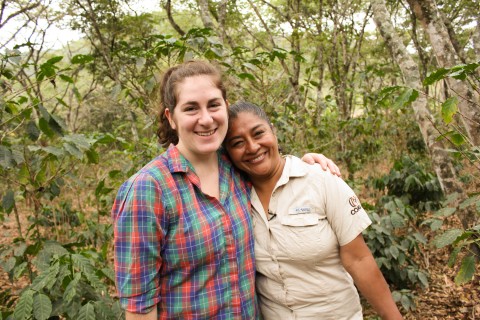 Carly with Joselinda Manueles, a farmer member of COMSA, in Honduras.
ASHLEY: At Equal Exchange, we are trying to do a better job of highlighting the women leaders across our supply chain. ASPROCAFE Ingruma, the co-op you visited last week, is the source for our current Women in Coffee featured coffee offering, Organic Crescendo. What should we know about the women of ASPROCAFE Ingruma?
CARLY: One thing that I don't think we have talked about much with ASPROCAFE Ingruma is that the association's members live in four indigenous reserves in Caldas: La Montaña, Bonafont, San Lorenzo, and Lomaprieto-Cañamomo. The women of Ingruma are indigenous, and on this particular trip I got to know more about the seed-saving projects within the indigenous reserves.
One of the organic coffee farmers, Ana Lucia Bañol, is a leader of the seed keepers. She identifies and saves bean, corn, and tuber seeds (just to name a few) and sells the seeds she has saved back to the reserve's seed banks. The idea is to protect ancestral seeds as well as create an additional source of income for Ana Lucia. Ana Lucia also published a cookbook of native recipes and ingredients.
ASHLEY: I want that cookbook. Who are some of the other women that have inspired you on this trip so far?
CARLY: The seed keepers that I mentioned, the farmers who protect and practice natural medicine, the parents who share their cosmovision with their children and believe in the importance of indigenous culture in Colombia. I also oftentimes see different traits of my grandmothers and great-grandmother reflected in the women farmers that I work with and that obviously makes me feel connected to people in a particularly special way.
I don't think I can overstate how inspiring the farmers at Ingruma are to me. On a very personal level, I am extremely concerned about the impact of climate change on the world and more specifically, smallholder agriculture. There are many times that I think we have already reached a point of no return in terms of ecosystem destruction and when I look at the increase in ocean temperature, I feel professionally and emotionally exhausted.
And yet, I hear and see the farmers that I have the privilege of working with talk about resilience, talk about their responsibility to the soil and the planet and the next generation, and it makes me pretty emotional. For all of the challenges that the farmers at Ingruma have faced throughout their lifetime, they share an urgency of action and a hope for the future.
I'm especially inspired by Rocio Motato Suárez, the coordinator of ASPROCAFE Ingruma. Rocio has worked for 30 years organizing indigenous farmers in her region. Her parents and husband are members of the association and produce organic coffee. Her younger sister was the chief governor of the La Montaña Indigenous Reserve for the last four years. She has taught me so much about listening to people and working in cooperation with many different voices.
I'm curious - who inspires you professionally in work toward gender justice?
ASHLEY: Hey, I thought I was asking the questions here...
I feel fortunate to be surrounded by such badass women in my daily work life at Equal Exchange. It's what inspired me to make the Women in Coffee film series; I wanted to highlight some of the women that are out there doing the work in coffee, and are often times breaking down gender stereotypes while they do it.
In particular, traveling with you and Beth Ann Caspersen (our Coffee Quality Manager) to coffee farms, seeing your passion and intelligence in action—often in spaces that have traditionally been male-dominated—and meeting such strong women leaders at the co-ops and in the farming communities—as a feminist and a storyteller, it ignites a fire in me. I want to contribute to gender justice by making women's stories more visible. So I guess I would summarize that by saying that I'm inspired by the hard work, dedication, and innovation that I see happening around me by women at every level of the Equal Exchange supply chain.
By the way, I was moved by the Instagram you posted about Rocio Motato Suárez during your visit to Ingruma. What is it like to develop such close professional relationships, and often times, friendships, with the folks you're visiting?
CARLY: It's interesting and challenging. I feel personally invested in my work and a lot of our work reflects my personal values, so I think this work does get personal really quickly and you build relationships with farmers and commercial managers who share your values.
Building those personal relationships is an honor, it's comforting, and it's fun. I like making people laugh in English, in Spanish, whatever, and it's one of the great pleasures of my life when I get the most serious co-op president or general manager to totally lose it and laugh at my jokes.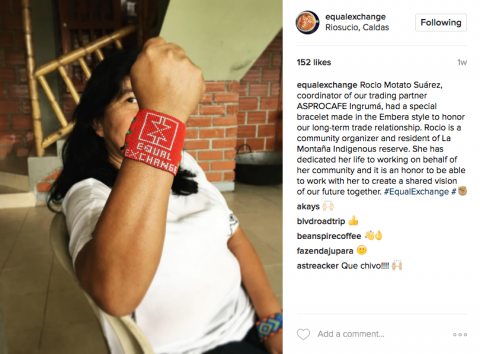 ASHLEY: I've gotten to witness those moments on the trips we've taken together to producer countries. It's pretty great. Being on the road as much as you are, how has the concept of 'home' changed for you?
CARLY: I have always been an explorer; I feel happy and comfortable on the road. I love having my go-to places and my go-to people. If I've been somewhere twice, than I probably have my go-to spots in town. As far as the idea of 'home' goes, I have my surrogate chosen family in every country I travel to.
ASHLEY: So where are you going next?
CARLY: Our Purchasing team at Equal Exchange is planning an event in Chiapas, Mexico, to co-create our strategic plan with key partners from Peru, Colombia, Guatemala, and Mexico in the next couple of months. I'm really excited.
ASHLEY: Sounds interesting. Obviously you're doing a lot more than transactional 'coffee buying'. Why do you think this level of co-planning and co-visioning is important for your buying relationships? Why is it important that you physically show up?
CARLY: Oooh boy, it is important for lots of reasons. I think we have realized over the past 30 years that the simple trade mechanisms of paying social premiums through various Fair Trade systems and expensive top-down development projects with little consideration of the supposed-beneficiaries' input or ideas have largely failed to achieve shift change. So, we need to be more intentional about actively and consistently incorporating our partners' diverse voices into our vision and plan if we want to be a business that actually achieves social change.
And, there is no stand-in for a face-to-face conversation. It's important to show up with an open mind and be ready to listen and learn from farmer partners. I think that showing up and spending time with farmers is vital to create a shared vision of the future.
Carly with Arcadio Galindo, general manager of Asociación Chajulense, in Guatemala.
ASHLEY: Speaking of a vision of the future... in January, a bunch of us from Equal Exchange participated in the Women's March as a response to the current U.S. administration. Have you had conversations with producers about this movement? What's their reaction?
CARLY: Since the election, I've had lots of conversations with producer partners about the new administration and the Women's March, all prompted by questions from our partners, questions often starting with something like, "Why does Trump hate Latinos?" Especially in Central America and Mexico, so many of our producer partners have family members who have gone to the U.S. without documentation.
I was surprised and really overwhelmed in Guatemala last month when one of the biggest questions that I heard from partners during a community meeting was, "Where exactly do you live in the U.S.? We want to know what it is like and the current conditions because our kids are there and are undocumented. Do you think they will be okay?" I tried to answer the best that I could about the uncertainty with the various executive orders around immigrants, etc. The young people from these farming communities in Central America so frequently go to the U.S. to make money to buy land or build a house in their home country. Additionally, if you look at upticks in migration from coffee communities in Central America, they often correspond with dramatic price crises or widespread plant diseases in coffee.
I was previously a Peace Corps Volunteer in Honduras in a coffee community and almost every single family in the community had a son or daughter or father or mother who had gone to the U.S. without documentation with the hope of building up capital to be able to create a better life for their families. Our economy relies on and often exploits undocumented labor. I really wish that instead of blaming the current non-functional immigration system on individuals who risk their lives to try and build a better life for the families, we instead asked our politicians to revisit and create a system that works for the labor needs of the U.S. economy (e.g. farm labor in the Central Valley of California) and also considers the humanitarian question of immigration. It is preposterous to think that by simply "being tough on immigration," we will address any of the root causes of undocumented immigrants into the U.S.
And, going back to those conversations in Guatemala with parents of children who have left to try and make it through Mexico to the U.S., I don't know what to say. I'm scared for their children and I hope that one day we will achieve systemic change rather than creating a toxic dialogue of fear and untruth.
ASHLEY: I imagine those conversations can be really overwhelming. What keeps you motivated in this work?
CARLY: What keeps me motivated? The individuals and their stories that I have gotten to know in coffee communities. Just to name one, there's a farmer in Guatemala named Francisco ("Don Chico") and a few years ago he shared his story with me about how in the '80s, he helped to organize a savings and loan cooperative in his town. There was no bank in the community and he saw it as a necessary step toward economic growth. However, the Guatemalan army did not like his social organizing and efforts to empower the mostly indigenous community. He was blacklisted and considered a collaborator with the guerilla forces (this was happening during the Guatemalan Civil War) and was essentially forced to flee his community. He continues to be a part of a community organization and is on the Board of Directors. He emphatically tells me each time I visit that being a coffee farmer is not easy and he knows that, but we have to be organized and fight for what's right.
There are so many Don Chicos that I have met while out in the field as a coffee buyer and their capacity for continuing to fight in the face of such incredible, incredible challenges keeps me motivated.
ASHLEY: At Equal Exchange, we've been talking a lot lately about the importance—and necessity—of learning from our producer partners' organizing efforts and applying that to the U.S. consumer base, which is largely unorganized and disconnected from our food sources. We recently launched the Equal Exchange Action Forum as a way to facilitate a more democratic food system by organizing people to engage not just as consumers, but as citizen-consumers - political, thinking beings. What do you think citizen-consumers should know about coffee?
CARLY: Equal Exchange started, in essence, as a citizen-consumer effort: let's break up the Reagan administration's embargo on Nicaraguan products, because the coffee farmers in Nicaragua are suffering as a result of it. And we did it! Coffee still has the potential for these kind of political statements. Demand transparency from your coffee source, even if it's Dunkin' Donuts. We have the ability to achieve transparent and sustainable supply chains in this product.
ASHLEY: Thanks, Carly. Anything else?
CARLY: Buy more coffee.
Learn more about the Equal Exchange Action Forum